For the last three years (partially for my own amusement and partially for, hopefully, the greater cause of foisting books upon others), I've been tracking the number and types of books that I made it through during the last year. I'm a little later than usual, but it's once again time for my Annual Reading Report and Best Books of 2012! (And, thanks to my Excel-happy husband, I can geek out this year with graphs!)

I read a total of 95 books this year. That's down 8 from last year, but high enough that I still feel good about it. Here's a break-down by genre. And here's my usual caveat about how it's sometimes pretty tough to figure out exactly which genre I'm going to categorize a particular book as! Particularly when it comes to parsing between YA paranormal/YA fantasy and between YA science fiction/YA dystopian novels. (Seriously, the paranormal/fantasy thing gave me fits, though I expect I'm not alone in this.)

Books Read in 2012, By Genre



And to compare . . .

Books Read in 2011, By Genre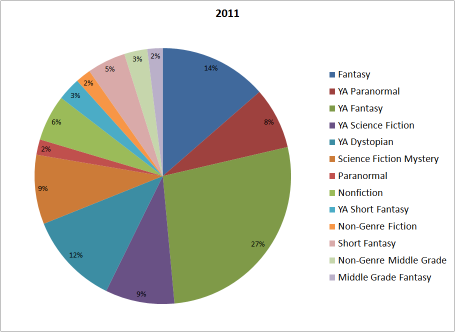 And for fun, YA vs Non-YA for 2012 and 2011





Looking back at last year's list, I see that adult fantasy and YA fantasy flip-flopped on the list (with pretty similar numbers for the switch, too, which is funny). Still reading more YA sci-fi than five years ago, as it more is available, and this continues to make me happy. I did a bit more re-reading this year, a lot of that due to the fact that a lot of sequels came out this year and I am mentally incapable of reading a sequel without reading the preceding book right before it. (26 of my reads were re-reads.) It bugs me when I'm reading along and can't remember who a minor character was, or why exactly so-and-so is mad at so-and-so. Which is why I'm as terrified as excited for whenever the next Song of Ice and Fire book comes out—because having to read 5,000 pages of preceding books is going to take some time.

Now that I know what I read, which books were my absolute best you-must-read-them-now favorites? Here's the list! (Along with one more caveat, and that's that while I'm telling you what my favorite books were that I read last year, sometimes I'm slow and don't get to a book in the year it actually came out. So some of these might have come out in 2011. But I still read and liked them best in 2012.)

Days of Blood and Starlight by Liani Taylor. This was hands-down my favorite book of 2012. I'll soon by posting a very fangirly ode to it, and I can't say enough awesome things about this series, which starts with Daughter of Smoke and Bone. It's dark, sensuous, nerve-wracking, hysterical, heartbreaking, and different than most other YA out there. And if you can listen to the audio, do so. Khristine Hvam does a great job on it—I now hear her voice when I'm reading the books.

Cinder by Marissa Meyer. I loved this very original take on Cinderella. I mean, fairy tales? Check. Cyborgs? Check. Hot princes? Check. All the flavor of the original fairy tale is here, but with changes that delight and keep an old classic new. I can't wait for the sequel, Scarlet, which happily comes out soon.

Welcome to Bordertown edited by Ellen Kushner and Holly Black. I'm a bit young to have been into the shared-world Bordertown stories when they first arrived on the scene in the 1980s. I didn't read any of them until several years ago, but I think I'm as thrilled as any old-time Bordertowner that there are new stories being written about it. The sometimes weird and edgy mix of fairy tales, rock and roll, long-lived elves, and kids looking for a new life is intensely appealing to me. And the fact that Bordertown stories are written by different writers makes reading them a little like doing a jigsaw puzzle, so that you're always looking for the way the pieces fit together, and that makes them even more fun.

Black Heart by Holly Black. Another contender for one of the top-top spots on the list. Black Heart wraps up the Curse Works series and in grand style. What can I say? I love Cassel and the way he's torn between wanting to be good and his natural conman nature. I love his usually fraught relationship with Lila. I love the world that Holly has built, which contains so many tiny details of how a world with curse workers would differ from ours that it seemed entirely real. In short, I love this series, and I'm keeping my fingers crossed that we might see more of it someday.

The Master of Heathcrest Hall by Galen Beckett. Another finale, this one finishes up the trilogy begun with The Magicians and Mrs. Quent. I was entirely satisfied (though occasionally heartbroken), and know that I'll be returning to this world whenever I need a Jane Austen fix . . . but with magic thrown in.

Clockwork Prince by Cassandra Clare. Cassie Clare is hogging all the teen love angst in YA. Seriously, there's enough in Clockwork Prince that there shouldn't be any left over for anyone else. But I love it! Looking forward to seeing Tessa completely come into her own in Clockwork Princess—she's very nearly there in Clockwork Prince—though not looking forward to almost certainly having my heart stomped on re: Will and Jem. (Although this does lead to the question: Is teen love angst in YA a renewable resource? Can we harness this to solve the energy crisis? Must tell husband to stop teaching chemistry and focus all mad scientist talents on this instead . . .)

Saints Astray by Jacqueline Carey. I loved the sequel to Santa Olivia. It's not as dark or fraught as the first one, but I was in fact charmed by its slightly frothier nature. And I actually loved that the end to a "superhero" book was like no other I'd ever read—and probably much more realistic.

The Raven Boys by Maggie Stiefvater. As always, Maggie's characters are real from the moment they walk on the page. She's so, so great at making people just pop off the page. And the mixture of Celtic lore and modern America here is skillful and intriguing. As with so many of these books, waiting with bated breath for the sequel.

Anna Dressed in Blood and Girl of Nightmares by Kendare Blake. I especially love Anna and Girl for their male protagonist, Cas, who is sardonic in a way that had me laughing out loud at times. And I love Anna, who is terrifying and totally sympathetic at the same time. Creepy and dark, but with an edge of sarcastic humor and an end that had me crying, these books fulfill quite a few of my reading niches.